 Our mission is to provide an exceptional live entertainment experience through best-in-class venues and production, world-class customer service and a community-centric approach to business.
World-class venues and production. A great live entertainment experience starts with state-of-the-art facilities and best-in-class sound and light technology. Logjam's signature venues are either newly constructed or recently renovated with recent investments in the best production capabilities on the market. The Top Hat, Wilma, The ELM, and KettleHouse Amphitheater are some of the finest venues in the Northwest, if not the Nation.
A holistic entertainment experience. While state-of-the-art facilities are a key component of  live entertainment, they are just one piece of the experience. Customer-oriented event staff, great concession service, superior artist hospitality and an engaging patron community are all essential elements to fulfilling our mission.
Independent Montana music scene. In an era where the live music industry is consolidating into a handful of massive, national mega-promoters, Logjam Presents remains a community-oriented, locally owned organization focused on delivering the most relevant music for Montana. Montana is our sole priority, not a routing stop to fill a date on a large, multi-city tour. We invest our profits back into our venues and take pride in creating world-class community assets.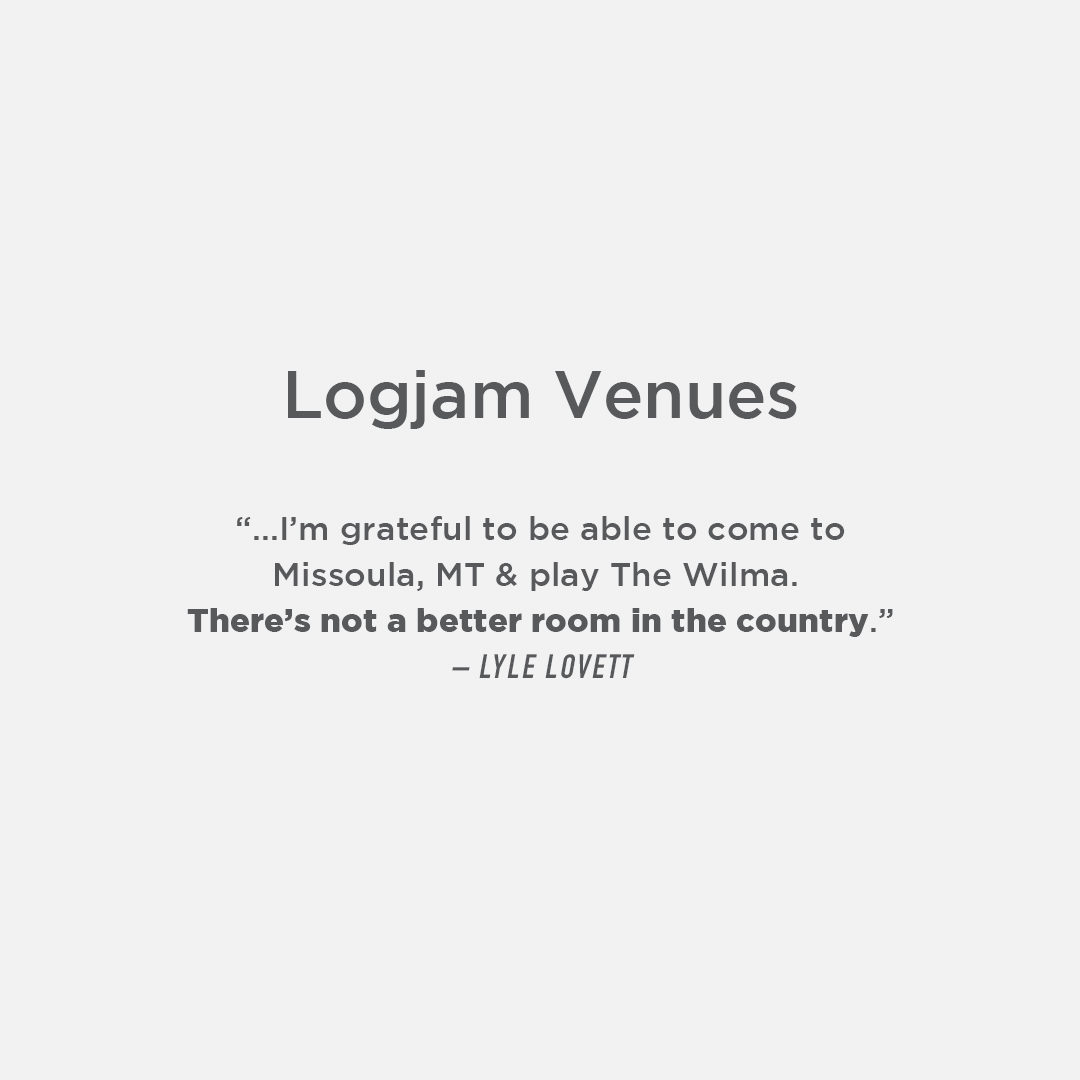 TOP HAT
Location: Downtown Missoula, Montana
Capacity: 550
Renovated in 2013, with subsequent improvements made to the artist facilities in 2016, the Top Hat provides artist and concertgoers a gritty club vibe with all the modern services of a new venue.
ELM
Location: Bozeman, Montana
Capacity: 1,100
Logjam Presents is committed to providing our customers with world-class venues to experience their favorite artists. The ELM will be no exception. From its contemporary architecture to best-in-class customer flow, to consistently great concertgoer view lines, to exceptional artist production, the ELM will be the best venue of its size in the Western US.
WILMA
Location: Downtown Missoula, Montana
Capacity: 1,500
In 2015, the Wilma was acquired by Missoula-based owners. Shortly following the change in ownership and management, the Wilma underwent a major renovation to restore the venue to its past glory. The neglected interior was historically restored, while the production, artist accommodations, and customer services were outfitted with the latest and greatest technical capabilities.
KETTLEHOUSE AMPHITHEATER
Location: Bonner, Montana
Capacity: 4,250
Serving as the only dedicated outdoor venue in the region, the KettleHouse Amphitheater provides a state-of-the-art steel structure stage, permanent concession areas that provide full beverage service, first-rate artist accommodations and various ticket purchase options for concertgoers, including reserved permanent stadium seating, general admission standing pit and general admission lawn seating.
OGREN PARK
Location: Downtown Missoula, Montana
Capacity: 13,500
Logjam Presents and the City of Missoula have entered into an exclusive agreement to promote and produce entertainment events at Ogren Park starting the summer of 2019 concert season.