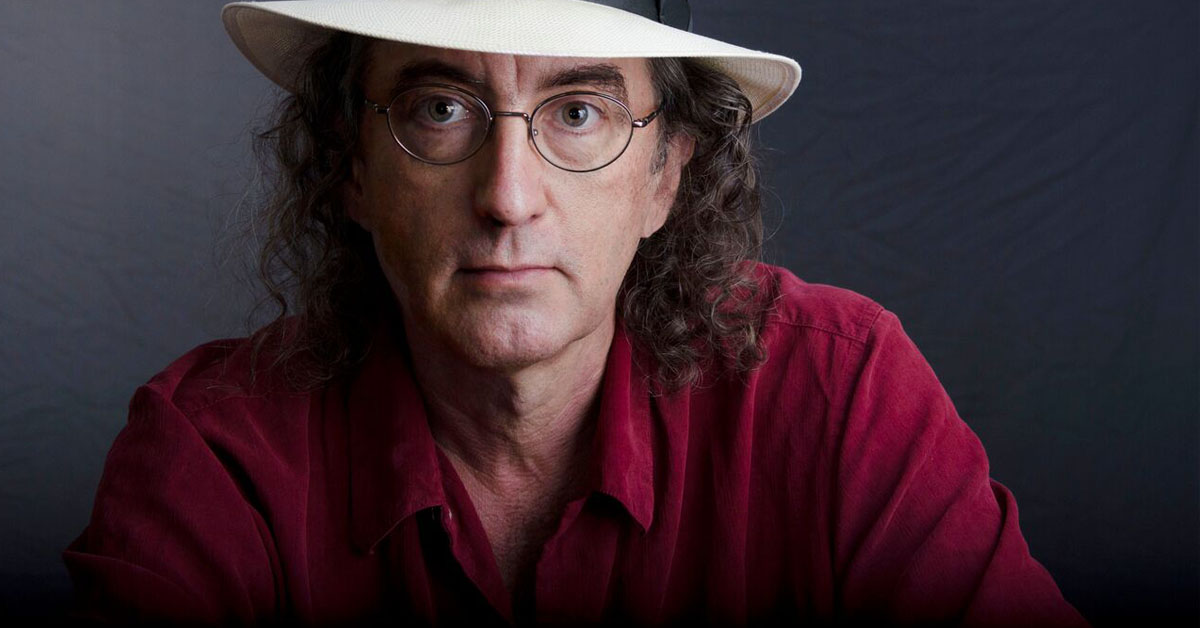 James McMurtry Announces Westbound & Down, Full-Band Summer Tour
Logjam Presents alt-country, singer-songwriter James McMurtry Westbound and Down: full-band summer tour live at The Top Hat on Saturday, July 29, 2017!
Tickets are on sale now at The Top Hat, online or by phone at 877-987-6487. All tickets are general admission standing room only with limited bench seating available on a first come first served basis.
For questions regarding ticketing, please email boxoffice@tophatlounge.com
James McMurtry: Westbound and Down Summer Tour
James McMurtry's forthcoming full-band Westbound and Down summer tour launches at Duling Hall in Jackson, Miss. on June 14 and routes throughout the region before concluding at The Top Hat in Missoula, Mont. on July 29. Major markets on this run include shows at legendary listening rooms 3rd and Lindsley in Nashville, Variety Playhouse in Atlanta, Ga., and the Vanguard in Tulsa, Okla. "We're looking forward to playing some rooms we haven't seen in a while," says McMurtry, who's been touring abroad recently. "I sure missed the States."
The famously political songwriter has been keeping a close eye on the troubled Trump administration since returning home. "A few years back, I put out a song called 'Cheney's Toy,'" McMurtry says. "It was often misinterpreted due to a reference to an unknown soldier. People thought I was calling the soldier 'Cheney's Toy' when I actually was referring to then-President George W. Bush. It seemed to me that Cheney was the puppeteer in that administration, while Bush was the puppet, the toy. At shows during my current tour of the U.K. and Europe, people have called out for me to sing 'Bannon's Toy.'"
The longtime Austin resident continues riding waves of universal acclaim for his latest offering, Complicated Game. "McMurtry's unassuming vocal style and stage presence bring to the foreground the voices populating his songs," the New York Times magazine said, singling out "Copper Canteen" in its recent piece "25 Songs That Tell Us Where Music Is Going." "McMurtry writes as though he has spent time eavesdropping on conversations in every Dairy Queen in America." "At a stage where most veteran musicians fall into a groove or rut, McMurtry continues to surprise," Texas Music magazine echoes. "[Complicated Game] is a collection of narratives as sharply observed as any from McMurtry, but with a contemplative depth that comes with maturity."
Indeed, the release spotlights a craftsman in absolutely peak form as he turns from political toward personal ("These Things I've Come to Know," "You Got to Me"). "The lyrical theme is mostly about relationships," the longtime Austin resident says. "It's also a little about the big old world verses the poor little farmer or fisherman." Either way, McMurtry spins his stories with a poet's pen ("Long Island Sound") and a painter's precision ("She Loves Me") throughout.
Folks noticed Complicated Game delivering McMurtry's trademark story songs time and again ("Copper Canteen," "Deaver's Crossing"). "[McMurtry] takes listeners on a road trip of unprecedented geographic and emotional scope," No Depression raved of the record. "Lyrically, the album is wise and adventurous, with McMurtry — who's not prone to autobiographical tales — credibly inhabiting characters from all walks of life." "[McMurtry] fuses wry, literate observations about the world with the snarl of barroom rock," National Public Radio echoed. "The result is at times sardonic, subversive and funny, but often vulnerable and always poignant." "They took their time with this one," Texas Music magazine noted, "and it was well worth it. He's always been wise beyond his age, but middle age suits him well."
Just Us Kids (2008) earned McMurtry his highest Billboard 200 chart position in nearly two decades and notched Americana Music Award nominations. Meanwhile, Childish Things (2005) scored endless critical praise and spent six full weeks topping the Americana Music Radio chart in 2005 and 2006. In 2006, Childish Things won the Americana Music Association's Album of the Year and "We Can't Make It Here" was named the rapidly rising organization's Song of the Year.
Of course, Complicated Game doubled down on the literate storytelling longtime enthusiasts expect. Recall high watermarks past: "Childish Things," "Choctaw Bingo," "Peter Pan," "Levelland," and "Out Here in the Middle" only begin the list. (Yes, Robert Earl Keen covered those last two, "Levelland" remaining a live staple.) Just Us Kids alone includes fan favorites "Hurricane Party," "Ruby and Carlos" and "You'd a Thought."
More history: McMurtry's critically lauded first album Too Long in the Wasteland (1989) was produced by John Mellencamp and marked the beginning of a series of acclaimed projects for Columbia and Sugar Hill Records. In 1996, McMurtry received a Grammy nomination for Long Form Music Video for Where'd You Hide the Body. Additionally, It Had To Happen (1997) received the American Indie Award for Best Americana Album.
In 2004, McMurtry released the universally lauded Live in Aught-Three on Compadre Records. The following year, Childish Things notched notched arguably his most critical praise, spending six weeks at No. 1 on the Americana Music Radio Chart in 2005 and 2006. In September 2006, Childish Things and "We Can't Make It Here" won the Americana Music Awards for Album and Song of the Year, respectively. McMurtry received more Americana Music Award nominations for 2008's Just Us Kids. This album marked his highest Billboard 200 chart position in more than nearly two decades.
In 2009, Live in Europe captured the McMurtry band's first European tour and extraordinary live set. Along with seasoned band members Ronnie Johnson, Daren Hess, and Tim Holt, the disc features special guests Ian McLagan (The Faces) and Jon Dee Graham (True Believers, Skunks). Also, for the first time ever, video of the James McMurtry Band's live performance is available on the included DVD.
The poignant lyrics of his immense catalog still ring true today. In 2011, "We Can't Make It Here" was cited among The Nation's "Best Protest Songs Ever." "'We Can't Make It Here,'" Bob Lefsetz wrote, "has stood the test of time because of its unmitigated truth."
McMurtry tours year round and consistently throws down unparalleled powerhouse performances. The Washington Post notes: "Much attention is paid to James McMurtry's lyrics and rightfully so: He creates a novel's worth of emotion and experience in four minutes of blisteringly stark couplets. What gets overlooked, however, is that he's an accomplished rock guitar player … serious stuff, imparted by a singularly serious band."
Longtime fans know the artist's vibrant vignettes have turned heads for a quarter century now. "James McMurtry is one of my very few favorite songwriters on Earth and these days he's working at the top of his game," says Americana all-star Jason Isbell. "He has that rare gift of being able to make a listener laugh out loud at one line and choke up at the next. I don't think anybody writes better lyrics."
As L.A. Weekly Music Editor Andy Hermann noted in a Nov. 15, 2016 story about the songwriter, "Like a lot of people who didn't want Donald Trump as their president, I've been leaning on music to help get me through this past week … sometimes, when it's really good, it can help you make sense of what seems incomprehensible. That's why lately I've been listening to a lot of James McMurtry."